FIND ALL ACCOMMODATION SIEM REAP, NEAR ANGKOR WAT 
IF YOU ARE IN CAMBODIA OR  IN THAILAND YOU MUST VISIT ANGKOR WAT ONE TIME IN A LIFE!!!YOU CAN BOOK YOUR HOTEL IN SIEM REAP, NEAR ANGKOR, JUST CLICK THE UP BOTTON "BOOK NOW"
ANGKOR WAT
The Angkor complex is visited by over a million tourists every year. It is close to the small town of Siem Reap. It has an international airport and connects to some of the most important Asian metropolises. Angkor spreads over a huge area. It used to be the capital of the Khmer Empire. However, its culture was deeply influenced by Indian kings who brought Hinduism and Buddhism. These days, most citizens are Buddhist. It is imperative to rent a vehicle to visit this place – a bike or even a limo. A tuk-tuk is probably the best way to blend into the local culture though.
There are two types of temples in Angkor – Hindu temples and Buddhist temples. Two temples are never alike. You can visit dozens of them and you will always find something new. Some of them were not restored, so you can jump around huge trees that embrace the constructions. It is highly recommended to avoid the huge Bayon and Angkor Wat temples at first. Start with small temples and push your way up for a growing state of beauty.
Plenty of people still work and live in Angkor. You can enjoy the local and cultural lifestyle, look at children dressed in uniforms while going to sleep and admire natives while working. Angkor Wat is the best known temple. It was initially dedicated to the Hindu god Vishnu. It is said to be a miniature of the universe. Its towers and concentric walls reveal an amazing architectural refinement. If you are looking for beautiful sculptures, you can find them at Banteay Srei. Interested in seeing the nature while blending with ancient constructions? Get to Ta Prohm. However, most people like Bayon, which is decorated with ancient drawings like no other.
TA PROHM
Ta Prohm is a must-see travel attraction in Cambodia. Its historical value is invaluable. If you like Lara Croft's adventures in Tomb Raider, you should know that many scenes were shot in this area. The Buddhist temple was built in the honor of Jayavarman VII's mother. According to the inscriptions on the walls, over 80,000 builders contributed to it. Given its isolated location, it was robbed, so many artifacts are gone now.
When you visit Ta Prohm, give yourself at least an hour or two. This place is huge. There are plenty of places to see and take pictures of. Plus, it is quite crowded as well. If you truly love photography, you might need to wait for a break between two consecutive tourist groups.
Be careful what rooms you go into and always look above. You do not want to end up with a stone on your head. The access to galleries is not allowed due to their fragile construction. Since the whole place is buried in vegetation, the moisture is quite high, especially when compared to other temples around Angkor. Therefore, be careful with your audio and video equipment.
The visit should begin in the eastern side. Just like most other temples in the area, this one is orientated toward the east. Get down from the tuk-tuk at the eastern gate and discuss with the driver. Ask them to pick you up from the western gate. You can also enjoy a local drink at one of the few boutiques.
BAYON TEMPLE
The Bayon Temple was built in the 12th century. It is part of the Angkor Thom complex and draws plenty of attention through its spectacular appearance. Moreover, educated visitors will be surprised to know that this is a Buddhist temple, as it also incorporates aspects of the Hindu traditions. The temple is located in the central part of Angkor Thom, which is square. It becomes the intersection of earth and heaven.
Most tourists gather around the Bayon Temple in order to admire the impressive stone faces – bodhisattva Avalokiteshvara. One of the faces looks outward, but also underlines the compass points. You might want to photograph the unusual smiling image too. Some people claim that it is a portrait of Jayavarman. However, other visitors call it the Mona Lisa of Southwest Asia. Go through the nearby towers and you will be surprised. There are 51 of them and over 200 faces.
Interested in history? Go by the long walls surrounding the temple and admire the ancient drawings and scenes of historical events. In 0.8 of a mile you can see over 11,000 carved pictures.
 BAMBOO TRAIN IN BATTAMBANG
The bamboo train in Battambang is one of the most unusual things to do in Cambodia. It is also among the must-do activities in the area, especially since you are less likely to find something similar in other parts of the world. If you think that you are about to travel by a bamboo train, you are right. However, the way it looks like will surprise you.
Every bamboo train is made of a wooden frame measuring about 10 feet in length. The frame is covered with a thin raft made of thin bamboo boards. This raft is supported by two bogies. Furthermore, it has a gas based engine with a few HP. It activates the rear wheels with some belts. This innovation can help transport 20 or more people from one town to another. It can even reach to 25 MPH.
Since there is no train control or communication, some trains will meet others coming from the opposite direction. What happens then? Simple. There is a rule. The train with less passengers will make room. Passengers go down, pull the train off the rail, let the other train pass, then go back on the rail.
The Royal Palace in Phnom Penh
The Royal Palace is one of the main travel attractions of Phnom Penh. It draws your attention from a long distance as you walk downtown. It was built during the 19th century, when Norodom has moved the country capital to Phnom Penh. The complex still hosts the king's home, but it can be visited. The ticket is inexpensive. You have to pay more if you go in with a camera, yet you should know that you are not allowed to shoot the most spectacular building interiors.
The throne hall is astonishing. It has an amazing level of luxury, with gold items everywhere around you. The Chan Chaya pavilion hosts banquets, as well as the king's speeches for the people. The Napoleon III pavilion is at least unusual. The construction is entirely made of metal and given by the French monarch, who originally built it for his wife.
SILVER PAGODA
 
Silver Pagoda is built inside the Royal Palace. If you take a tour of this palace, chances are you will see this place as well. It is also known as Wat Preah Keo Morokat (Buddha's Emerald Temple). It is paved with 5,000 tiles of silver and hosts hundreds of silver and gold statues of Buddha. The floor is usually covered for protection.
The most precious statue is built into an emerald gem. It is about two feet in height. The one in front of it weighs about 200 pounds. It is entirely made of gold, but it is also fitted with 2,086 diamonds – one of them has 25 carats and another has 20 carats.
The extravagant construction is reachable through a staircase made of Italian marble. Once you step inside, the small gold statues tell Buddha's stories. Apart from the large gold statue, you can find other huge constructions made of bronze, silver and gold. One of them is covered with 9584 diamonds.
Cheung Ek Killing Field – Phnom Penh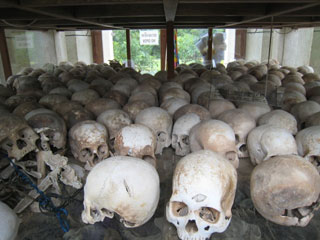 The Cheung Ek Killing Field is a macabre destination. These fields are less than 10 miles away from Phnom Penh. The way there goes through several rural areas, so you can get into a tuk-tuk, admire the surroundings and see the local lifestyle for around 30 to 45 minutes. There is an inexpensive ticket on site, as well as a more expensive one if you want an audio tour. The killing fields have operating hours. It might be a good idea to get there in the morning because the weather is better.
Cheung Ek is just one of the multiple places where the Khmer warriors have killed their enemies. You can find plenty of common graves. Over 17,000 men, women and children were executed. The place welcomes visitors in a unique way – over 5,000 skulls in a Buddhist place. Most of them have also been through interrogations and torture activities before being killed.
People brought there were trimmed, then asked to kneel. They were killed by beating with all kinds of hard objects – from tools to brooms and stones. Some of them were hit against the walls or stabbed with swords. Executioners had precise instructions from the government – they were supposed to save bullets.
Once dead, the victims were spilled with chemicals. First, this action was supposed to eliminate the unpleasant rotting smells, which could cause suspicions among the nearby communities. Second, chemicals were so strong that they would kill the victims who were not dead after the beating.
Kids and babies were hit with their heads against a tree. The tree is still on site. All in all, this place psychically takes you down through its emotional load, yet it is one of the most important travel attractions in Cambodia.
Toul Sleng Genocidal Museum (S-21) – Phnom Penh
The Toul Sleng Genocidal Museum (S-21) refers to the "Field of Poisoned Trees". It was also known as the "Strychnine Hill". It is basically a school that was taken over by the Khmer regime and turned into a political prison. This sinister place was discovered after the Vietnamese invasion from 1979. About 150 such places were discovered in the entire Cambodia, yet none of them was so diabolic.
During the Pol Pot regime (1975 to 1979), over 17,000 people were imprisoned. Almost all of them were killed. Only 11 of them survived. In 2011, three of them were still alive. Curious why they were kept alive? They were good painters and mechanics. They were supposed to paint pictures of Pol Pot and fix the machines used by the Khmer regime.
Prisoners were tortured in severe ways – electrocuted, burnt with hot metals, hanged, suffocated, cut with knives or kept underwater. Some of them got their nails taken out, while some women were raped, although this behavior was theoretically forbidden. Some cases mention organs ripped apart from living prisoners or cut without an anesthesia. The blood was often taken out with a pump, only for the soldiers to make bets on how long it takes the body to die. Some problematic prisoners were also skinned alive.
It is shocking, but it makes you wonder what would have happened with all those people if they were not taken through such torturing nightmares.
Tonlé Sap Biosphere Reserve
Tonlé Sap is about 10 miles away from Siem Reap. It is world renowned for the floating villages built on tall pillars, which attract plenty of tourists. You can visit them on a one-day excursion. Arm yourself with a pair of rubber boots, a rain cape and plenty of patience. The excursion begins with a tuk-tuk trip, then you get on the boat. The trip with the tuk-tuk will cover you in red mud as you ride between hens and children. The nearby crocodile farm is just as attractive. During the dry season, the Tonlé Sap lake flows into the Mekong river. During the rainy season, it turns into a huge lake.
The traffic on the lake is quite intense. Everyone "rides" in all directions. The landscape is not too picturesque at first. But then, as you explore these villages, you will be amazed by these people's lifestyle. You are taken around the villages, yet close enough to photograph the natives. Everyone minds their own business, while natives ignore tourists. Apart from their own homes, you can also spot a few restaurants for tourists, a temple, a school and a local hospital.
Not every village is nice and attractive enough. Some of them are quite dirty. But then, you feel like reaching to an apocalyptic world. It feels like being in one of those movies picturing the world covered by waters. All in all, this experience is definitely worth a shot.
CAMBODIA'S NATIONAL PARKS AND MOUNTAINS
The Soram Riddh Kosamah Kirirom National Park is located about 110 miles from Phnom Penh. The national park is established in the mountains. Visitors can relax at a local resort, not to mention hiking the mountain. Those who reach on top of it will admire a natural waterfall and a beautiful guest house in the middle of the nature.
The Botum Sakor National Park is known for being the largest natural park in the country. It is part of the Koh Kong provinces, in the Gulf of Thailand. It appears like a peninsula on the southwestern side of the Cardamom Mountains. It is extremely rich in unique species.
The Monivong Bokor National Park "belongs" to the Kampot area. It is one of the two ASEAN Heritage Parks in Cambodia. The top of the mountain has decent road access. Once up there, you can admire all kinds of natural waterfalls, landscapes and a casino.
The Kep National Park is often overlooked due to its positioning. It is also quite new when compared to others – it was established in 1993. However, it is large enough to draw plenty of attention. Getting there is fairly simple from Krong Kep.
The Preah Sihanouk Ream National Park is a natural piece of wilderness in the Sihanouk ville. It is not always included in travel itineraries, yet it is highly recommended to those who want to explore the local culture and wildlife.
The Kulen Mountain National Park is more popular though. The Khmer regime thought that this would be the most sacred place in Cambodia. It is known for the active lifestyle, as well as the local festivals. This mountain was the first capital of the area, soon after getting independence from Java. Over 50 temples are built on the hilltop. Most of them are in a poor condition, so you should not go too deep into the galleries. They are also made of volcanic stones and bricks. Visit Hahendrapura though – this is the only one to be intact.
The Vireak chey National Park is worth a visit too. It is placed between two provinces – Ratanakiri and Stung Treng. It is part of one of the largest protected Asian forests. It includes valleys, forests, grasslands, mountains and a unique wildlife. The park is not really disturbed by human settlements, so elephants and tigers live freely in there, as well as Hill Tribe members. One of its sides was transited long ago, but the trails are no longer so trustworthy.
The Cardamom Mountains are part of the longest chain in Cambodia. You can find small paths everywhere around them, yet the forests are thick and dangerous. Remote villages are still scattered here and there. However, most of this area is underdeveloped. Visiting it is easier with a dirtbike because the road conditions are not too friendly.
The Phnom Aural Mountain covers the tallest peak in the entire country. Interested in the hiking experience of a lifetime? Go there though Kompong Chhang – a local town. The jungle is thick and sometimes dangerous, so you cannot see too much of it. However, a few nearby villages can give you a peek over the local lifestyle.
The Dangrek Escarpment is a mountainous chain along the border with Thailand. The area is remote, but also heavily mined. Most of these mines are still active. The mountain was the fortress of the Khmer Rouge regime. However, it also has some safe and interesting places to see.
Finally, the Kompong Trach Caves should be included in your itinerary as well. They are half an hour from Kep. Caves are gathered in an immense network and run through limestone mountains. Some of the internal stalagmites and stalactites were shaped and sculptured like animals.