BOOK NOW KOH RONG ACCOMMODATION,BUNGALOWS, ROOMS, GUEST HOUSE
Welcome Koh Rong Island travel guide, info & book accommodation. The #1 web site! You can easily book accommodation koh rong, koh rong samloem, koh kong island, koh ta kiev, sihanoukville and accommodation siem reap. Discover koh rong, best cambodia islands!!!
Koh Rong Cambodia Island Khmer: also romanized as Kaôh Rōng or Kos Rong), is the second largest island of Cambodia. Located in Koh Kong Province about 25 kilometers off the Sihanoukville's coast in the Gulf of Thailand, the island has an area of approximately 78 km2 and 43 km of beaches. Currently, there are four small villages and also home to more than a dozen guesthouses and bungalows, many of them foreign-owned.Koh Rong has had a land concession granted by the Cambodian government. The Royal Group has been granted a 99-year lease and has plans to build "Asia's first environmentally planned resort island."The latest season of the French "Survivor" television program Koh Lanta was filmed on Koh Rong, near Soksan village.
NEWS - American Tv Survivor - season 31 and 32 filmed in Koh Rong Cambodia
The reality game Survivor, from American TV filmed the next two seasons 31 and 32 in the Cambodia's island Koh Rong! The show debuted in 2000. As other survivor reality games, protagonists must find food, water and all needs and the last person will remain, will win 1 million $ !!! Survivor has been filmed in March in Koh Rong and having big success with the last season 30 it could be help to increase tourists in Cambodia. The actual season has been filmed in Nicaragua in San Juan del Sur. The new two season also will be showed on Cambodia Tv CTN so is a good opportunity to reach more tourists in Cambodia and Koh Rong. In 2013 also the reality "Koh Lanta" , a French survivor reality where filmed in Koh Rong, but has been canceled after a protagonist Gerald Babin had an heart atatck and died during the episode one. So do you wanna live a survivor experience on Koh Rong Island?! just book with us! Book a bungalow in Koh Rong
NEWS - roads on koh rong!
Finally development on koh rong island is coming! Now the island is provided by some rough roads that can connect the island to different beaches, so you can also ride with motorbike or by bike, but you must be carefull, roads are still rough, but this is a good new for the island! development on koh rong island is coming! Now the island is provided by some rough roads that can connect the island to different places and beaches
WHY GO THERE?!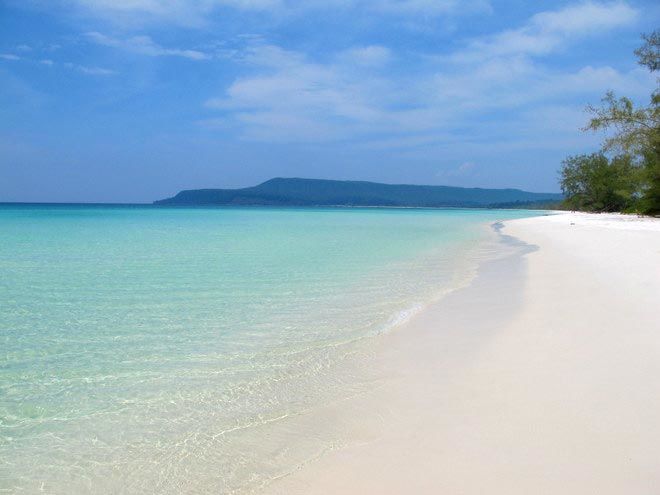 If you go now in Koh Rong, you are lucky, because you can enjoy the half desert island, with few people, live with people of villages, so have really relax time; no road no traffic!!! At the moment there are only few accomodation with bungalow or room, but the future will not be the same like now! So take the time to come here now!!! (the boat from sihanoukville takes 2 hours).
When you'll wake up in the morning you'll feel to live in paradise, with white sand, long beach, many fishes and coral, and all inside the island, the real jungle!!!In the island there isn't electricity, but only current generator that give current more and less from 6 p.m. to 11 p.m.
So than you can see a real starry sky, and feel the peace! Also in the water every night you can see the lights plankton!!!
There are no roads, but only beaten tracks, you can walk into the amazing jungle or reach the beach you prefer, so only by foot or by boat!!!
So we think there are many reasons to come here!!!
NEWS!!! BOOK A TOUR IN CAMBODIA - SIEM REAP - ANGKOR WAT - PHNOM PENH - BATTAMBANG
IMPORTANT INFORMATIONS BEFORE DEPARTING