Back then, she was a 22-year-old whitewater rafting guide who truly thought that
Survivor
would be all about braving the elements. As Richard Hatch gleefully schemed his way through the game, Wiglesworth was conflicted about forming an alliance and voting out deserving players.
The result in 2000: one of the most complex, three-dimensional edits inSurvivor history. (She's the one who coined the now-ubiquitous reality TV catchphrase "I'm not here to make friends," right before admitting that she really liked the people on her tribe.)
Survivor has changed a lot in the past 15 years, and so has Wiglesworth. Now a 38-year-old mom living in Mexico, she's not the naive girl that she was when she first played the game.
But one thing hasn't changed: Kelly Wiglesworth wasn't going to lie and backstab her way through this game. And unlike the vast majority of professional reality contestants, Wiglesworth is quieter and more introverted. The result in 2015: an under-the-radar edit where viewers didn't get to see most of her game.
Now back to her regular life, Wiglesworth tells PEOPLE what viewers missed – and why she's glad that she played the game for a second time.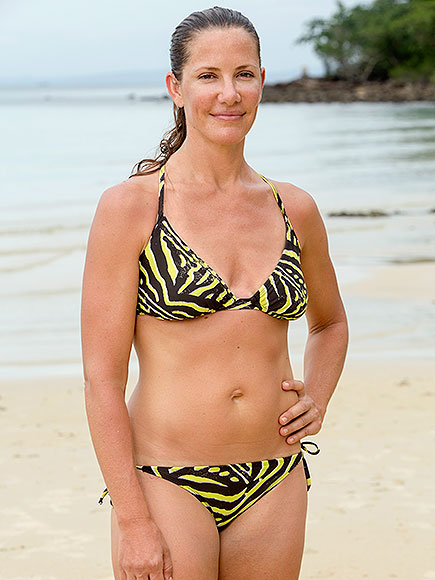 I wasn't sure what to make of you on this season. What type of game were you playing out there?
You know, I played the only game I knew how to play. I made social bonds with people. It was sort of my same game the first time around.
But there was a target on me this time; I had to lay low. The first time around, my name was never written down in any tribal council. Everybody this season knew that.
But I feel like I was a little more outspoken than I was portrayed. There were many times with votes and things, where I was like, "Don't trust this person, trust that person instead. This person's going to do this." But it wasn't really shown. But what I said is exactly how it unfolded.
Is it frustrating that none of that was shown?
You know, I understand it. There was a lot of big drama going on that they had to show. That overshadowed a lot of other things that have happened. I'm just not a dramatic person [laughs] and that's okay with me!
You didn't play a flashy game.
I tried to have an alliance from the beginning, which I guess was a change from the first time I played. I tried to make bonds with people, because you have to do that in this era of Survivor. The first time around, alliances didn't form until it needed to.
There are so many changes in Survivor now. We didn't have tribal swaps; we had a merge and that was it. That made it hard to solidify an alliance, and all my original alliance was gone before the merge, so I just had to lay low.
Like you mentioned, you had never had a vote against you before this season. What's it like to see your name written down?
Oh, yeah. [Laughs] It was really weird. I knew it would be unrealistic, but one of my little goals was like, "Hey, let's see if I can make it through again without any votes." But I knew that would never happen. [Laughs]
It sucks to see your name written down! With the Monica vote, I knew that she and Spencer were going to write my name down, but I felt pretty confident that I wasn't going home. But even so, seeing your name written down is like, "Ouch!"
You're a mom now. How did that change how you played the game this time?
I definitely feel more confident in myself now. I mean, I was 22 when I played before. I had dropped out of college to play the game and was like, "Hey, let's see where life takes me." Now I'm obviously older; I have a 2-year-old son. I'm somebody's mom. I have my own business.
I know where I am in life. Million dollars or not, I'm not going to change who I am. It was more of a struggle the first time around. So I was willing to play the game, but I wasn't going to do anything that I would regret later.
Well, everyone was a mess at 22 years old.
I know, right? [Laughs] I didn't have a clue!
Was it harder to play the game as a mom?
Oh yeah. I mean, it was so hard being away from my son. I had never been away from him for more than an hour. To go, and him being so little, it was so hard. I was still nursing him up until I got onto the plane to leave. It was emotionally and physically painful to leave him.
We try to be equal in how we think of parents, but a mother leaving her son is different than a father leaving his son. I was thinking, "What are people going to think? Are they going to think I'm a terrible mother?" But I really was doing this for him.
So I let myself think of him for an hour or 30 minutes, and then I'd put it out of my head. Because if I thought about him 24/7, it would have killed me and I would have quit! [Laughs]
A lot was made about you being a social threat. Were you?
Oh, definitely. I think I was a physical and a social threat. I'm in good shape; I think I could have done well in challenges. Actually, there was no doubt in my mind that I was going to win the balance challenge, but I lost focus for a half a second.
That's the same thing that happened to Colleen 15 years ago when you beat her in the balance challenge!
[Laughs] I know, right? It was exactly the same thing. I thought about that during the challenge. Colleen and I were out there and talking, and she said, "Am I getting voted out tonight?" and I said, "I won't write your name down." And I actually considered giving her the immunity, but if I had, they would have voted me off!
This time, I thought Joe was in danger if he lost. I saw him rocking and wobbling, and a tiny part of me thought, "Maybe I should give immunity to him if I win, so he doesn't get voted out." But hey, he won it anyway!
So what's next for you?
Back to Mexico and teaching yoga for me! And I'm also developing a line of healthy cocktails. My life is great outside of Survivor, and I'm going back to it. I loved the experience, and everything's great!